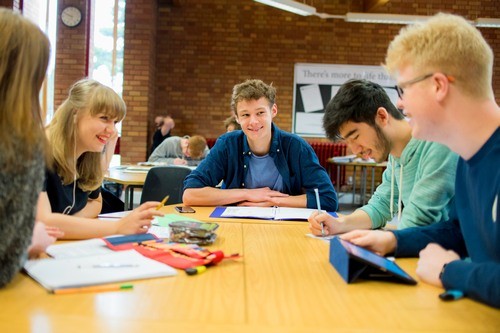 Studying in the Learning Centre
Specialist sixth form education
Every year we teach A levels, vocational qualifications and Apprenticeships to around 1500 students aged 16-19. They enjoy learning and socialising in an environment with people of their own age and, because we have more students than school sixth forms, we can provide more opportunities to inspire them and enhance their learning and college life.
Maximising student potential
We have an excellent track record of providing outstanding sixth form education that maximises student potential. Our students are able to achieve their full potential because we value them as individuals, we encourage them to exceed beyond expectations, and we provide outstanding, specialist teaching and support to help them thrive.
Outstanding, specialist teachers
Our teachers specialise in sixth form education. Many are examiners, practising academics and professionals in the subjects they teach. They share their knowledge and enthusiasm with students in a way that inspires and motivates them to enjoy learning and work hard. They support and guide students as they become increasingly independent and more responsible for their own learning.
"As a result of the enthusiasm and expert direction of teachers, students are interested and motivated."

"Students benefit significantly from outstanding teaching, learning and assessment which are reflected in outstanding outcomes."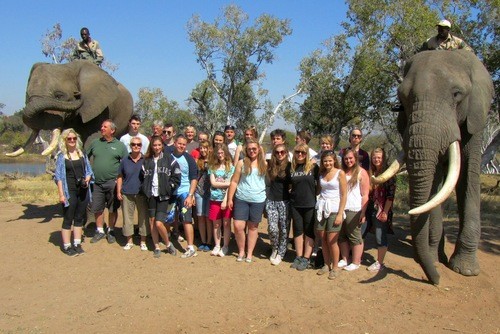 Biology trip to Zambia
Inspiring opportunities
Where possible, our teachers enhance classroom learning with trips, speakers, special events and engaging projects. These opportunities broaden our students' knowledge and skills and motivates them to learn.
You can find out more about these opportunities on the course pages and you can read about the wide range of enrichment activities and opportunities we offer.
"Students benefit particulary from the wide range of enrichment activities available to them, which help them to develop a broad range of transferable skills."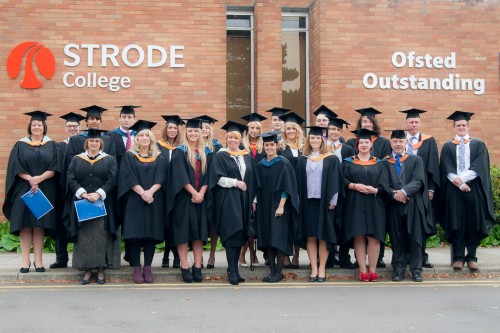 Strode College Graduation 2015
Higher Education teaching expertise
We currently have around 70 students studying university-level courses at Strode. The number of students is steadily rising and the range of courses we offer is developing to meet the needs of our students and the regional economy.
Academic and professional expertise
Our range of university level courses reflects some of the subject areas where our teachers have particularly high levels of expertise combined with excellent academic and professional credentials. Our teaching teams include staff who are practising researchers, published in their fields.
This expertise is recognised by the University of Plymouth, which validates our Degrees and Foundation Degrees; by local business partners who support our courses; and by the Quality Assurance Agency, which has highlighted the positive impact of teaching and staff scholarship on the quality of learning and student outcomes.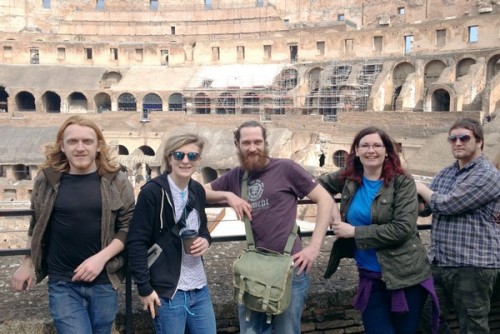 HE Students at the Colosseum
Valuing individuals
We value all of our students as individuals and this is reflected in our approach to teaching. Our high quality teaching and smaller class sizes mean that students get more personalised attention. Classes are vibrant and supportive, which makes them enjoyable and successful.
The Higher Education Quality Assurance Agency found that the support students receive, and that the quality of feedback students receive about their work, ensures their individual needs are met and helps them to develop and achieve.
Opportunities to enhance learning
Our Higher Education courses are modern and relevant to growth industries in the South West. To varying degrees they combine academic study and work-based learning. This is reflected in the course content which is enhanced, where possible with trips, speakers, special projects and placements, to help you gain the most from your studies. You can find out about these opportunities on the course pages.
Strode College Celebrates Achievements of Higher Education Students and Staff