Strode Theatre and Cinema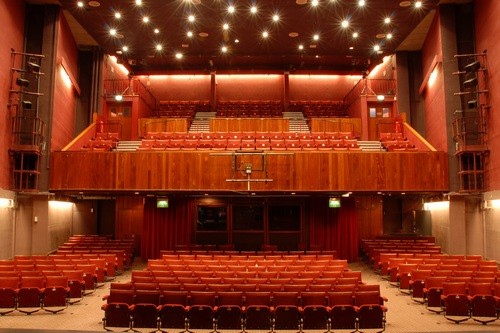 Strode Theatre Auditorium
Strode Theatre, mid Somerset's venue for live performance and film, is an integral part of Strode College. It is equipped as both theatre and cinema, incorporating two venues. The Theatre has 343 seats and a proscenium arch stage. The Studio has 64 seats in a retractable unit and is used for classes, rehearsals and film screenings.
The theatre promotes a mixed programme of live professional and amateur events on stage, mainstream and arthouse films as well as live and recorded transmissions of opera, ballet and theatre. The foyer is home to changing exhibitions of work by local and regional artists.

Theatre Foyer
The theatre bar is open on performance evenings, serving a variety of alcoholic and soft drinks, tea and coffee - offering a friendly place to meet and chat.
For more information, please contact Strode Theatre directly on 01458 442846 (Monday - Saturday 10.00am - 2.00pm), or visit their website where you can now book tickets online.