Success stories


Kilver Court Designer Village
Kilver Court Designer Village
Kilver Court is a fascinating and diverse venue that showcases some of the very best that Somerset has to offer in retail, events, hospitality and leisure.
Teams are headed up by energetic people who are expert in their individual field, who know and understand their part of the business and who have learned by doing, acquiring skills and knowledge along the way. With a strong and established brand and ambitious plans for future growth, the management team recognised that it was time to take a step back and look at the leadership skills across the diverse functions that make up Kilver Court.
Working in partnership with Strode College over a period of months, Kilver Court invested in and supported its team leaders through a Level 3 Award in Leadership and Management. It was vital from the start that as a training provider we spent time with Kilver Court's Operations Manager to develop a real understanding of current requirements and future development needs. The programme had to be built carefully on the specialist knowledge among a distributed team and make sure that as well as opening up new topics of study and conversation, team leads had the opportunity to share best practice and celebrate their strengths. Over the time we spent together it was clear to see confidence growing across the team and a genuine sense of achievement when the team were awarded their qualification.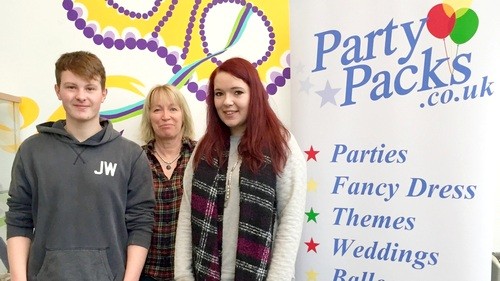 Party Packs - Elliott Mulready, Kate Turner and Lizzie Sturmey
Party Packs
Kate Turner, owner of Party Packs in Westbury Sub-Mendip, is a strong advocate of the apprenticeship scheme. Since 2012 she has nurtured six young apprentices. She has employed them flexibly across all parts of the business which helps manage work at peak times and gives the apprentices a fully rounded training.
Party Packs has two Business Administration apprentices at present: Elliott Mulready, is studying for an Advanced Apprenticeship and his mentor, Lizzie Sturmey, who completed her Advanced Apprenticeship, has now progressed to a Higher Level Apprenticeship within the company.

Brookside Academy Apprentices - Kate Gould, Amber Cook, Emily Payne, Georgia Latty and Daisy Withers
Brookside Academy
For the second year in a row, Brookside Academy in Street has been awarded 'Medium Employer of the Year' at the Grow Somerset Talent Apprenticeship Awards (18 March 2016).
Strode College and Brookside Academy have worked together since 2011 to support 20 young apprentices in a variety of roles within this unique school.
Paul Saleh, Strode College Apprenticeship Manager, said: "We are delighted that Brookside has received this award, as it recognises their support and dedication to apprenticeships. At Strode College we are passionate about apprenticeships and we want young people to see apprenticeships as a high quality path to successful careers. Brookside has created some wonderful career opportunities for young people within their nursery, their mainstream school and specialist provision; as well as in their IT, finance and office teams."
Sandra Bartlett, Business Manager for Brookside Academy, said: "We are absolutely delighted to have won the 'Medium Employer of the Year' award for the second year running. This accolade is a true reflection of our on-going commitment to ensuring that our Apprenticeship programme continues to thrive and develop."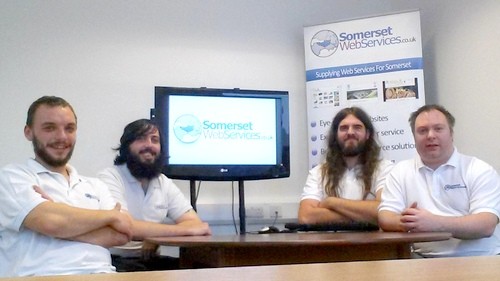 Somerset Web Services
Somerset Web Services
Tim Church, Managing Director of Somerset Web Services in Taunton, says his business has gone from strength to strength with the support of his two talented IT and Telecoms apprentices: Steven Denslow (pitcured far left) and Max Wilsohn (second from left). Also pictured, Chris Green, Lead Developer at the company and Tim Church.

Hairdressing Apprentice Charlie Parfitt
Karen Christensen Hair and Beauty
Charlie Parfitt from Wells completed an Advanced Hairdressing Apprenticeship with Karen Christensen in Wells and Strode College. Karen Christensen said: "Charlie was the perfect example of an apprentice. She had total commitment to her training as well as here day to day job. She is now a graduate stylist with her own client base and beginning a successful career."