Introduction to Strode College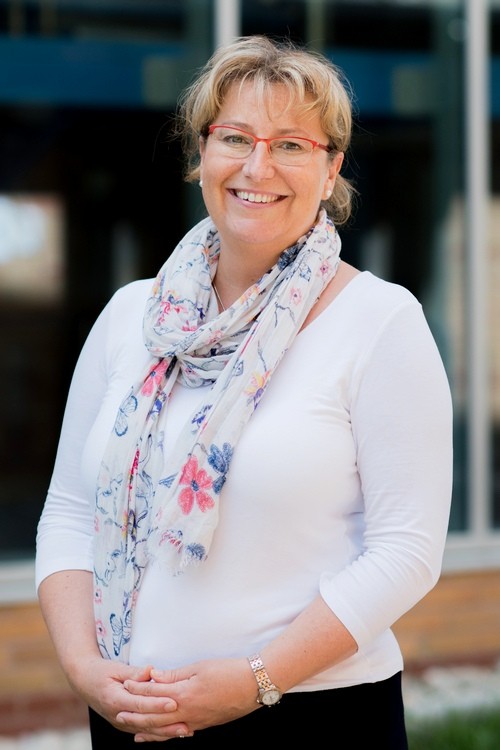 Katy Quinn, Principal
Our history
The college opened in 1899 as the Strode Technical Institute. We became a Tertiary College in September 1973.
Our ethos and values
The central ethos of the college is that all students are unique and special individuals and that within an inclusive and supportive environment our students will be able to achieve and exceed their potential.
Our students
In September 2016 we enrolled 1,600 16-18 year olds. In addition, we work with over 1,500 adult students, 200 Apprentices and 150 Higher Education students each year.
We serve the educational and training needs of Street, Glastonbury, Shepton Mallet, Langport, Wells and Castle Cary. We work closely with our partner 11-16 schools. Close liaison is maintained with the staff, students and parents at these schools and others within the area. We make provision for adult education in both Street and outreach centres.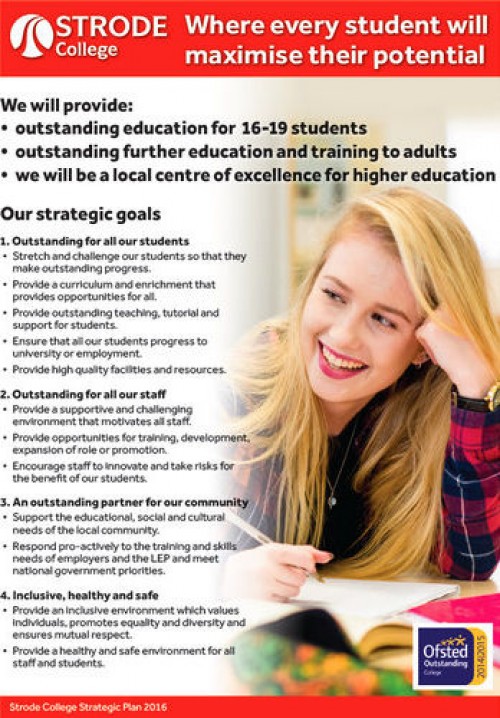 Strode College Strategic Plan
Download the Strode College Strategic Plan
Ofsted outstanding college
We were graded as 'Outstanding' in September 2014 by Ofsted with grade 1s for Overall Effectiveness, Outcomes for Students, Quality of Teaching, Learning and Assessment, Effectiveness of Leadership and Management plus three grade 1s and one grade 2 for Subject Areas. This followed a Focused Monitoring Visit in May 2012 which concluded that in all areas the college had made 'Significant Progress'. The college had previously been graded as Good in October 2008. The college was awarded Beacon Status in 2004. The College's Nursery was also graded as Outstanding in May 2015.
Outstanding student progress and achievement
Student achievement at Strode College is consistently among the best in England. In 2016 the A Level pass rate was 99.3%, with 56% of passes at grades A*/B and 83% at A*–C. Our BTEC Extended Diploma pass rate was 99% with 53% of students achieving Triple Distinction or better and 79% achieving High Grades.
These results included exceptional value-added. The college is one of the most consistent in the country for ensuring students achieve better results than might be expected based on their prior attainment at GCSE. GCSE Maths and English Language resit results are also with 60% grade C+ in Maths and 70% grade C+ in English Language.
Our students and courses
Most of our daytime work on our Street campus is with full-time students mainly in the 16-19 age group, with 86% studying advanced level programmes. Further Education study programmes include:
Level 3
AS and A Levels - we deliver the widest range in Somerset
Extended Diplomas
National Vocational Qualifications in Beauty Therapy and Hairdressing
Art and Design Foundation Diploma (pre degree)
Access to Higher Education Diploma
Level 2
GCSEs in English, Maths, Biology and Spanish
BTEC Level 2 Diplomas
Foundation Learning
Enrichment programme
Students can also choose from a very wide range of enrichment activities including:
a broad range of competitive and recreational sports academic development
personal development
creative and performing arts.
Maths and English
In addition to their main qualification, full-time students without GCSE English or Maths at grade C (new grade 4) have to retake Maths or English or work towards these qualifications.
All students also receive subject support through additional 1-1 and small group workshops, and a broad supporting programme as appropriate which may include additional learning support and study skills.
We also offer high quality, affordable, niche Degrees, Foundation Degrees, HNCs and HNDs in five areas:
History, Heritage and Archaeology
Management - with two pathways in the second year (Public Sector and Business)
Psychology
Computing
Engineering
The QAA Higher Education inspection in May 2012 awarded the highest possible rating and identified significant good practice.
In addition to the full-time provision we offer a wide range of part-time courses for adults ranging from Entry Level to Level 5.
We provides opportunities for apprenticeships at levels 2, 3 and 4 in over 40 frameworks in fifteen sectors.
Computer Technology Centre courses
Our Computer Technology Centre provides access to IT courses for the local and wider community on a flexible attendance basis. The opening hours allow adult students to attend at times convenient to them to fit around their work and family commitments. Some of the learning may also be on-line. Qualification courses are provided from the very basic absolute beginner level to advanced Level 3. Bespoke training packages can also be tailored to meet individual training requirements.
Support and training for business
We have a successful Business Development Unit providing a full range of services to hundreds of local employers. The college was recognised as a Centre of Vocational Excellence in Business and Management Skills in 2004. Short courses and other bespoke provision are provided for local business and industry. The college was also awarded the Training Quality Standard in January 2010. The college works with the unemployed and NEETs in Mendip in partnership with the Job Centre Plus, Mendip District Council and employers.
Student voice
There is a culture of student participation in the college. There is an active Student Association with its own Committee which arranges social events and is assisted by the Student Support Manager. Students are represented on the Board of Governors and its committees and at course reviews. There is also a Student Forum together with Forums in each Teaching Team. College-wide surveys of student opinion are conducted twice each year.
Community role
The college and our neighbouring secondary academy, a youth club and a swimming pool have developed as a "community campus". Strode College is well established as a provider of community facilities. Sports facilities are available to the public. Our nursery for 2-5 year olds was designated 'Outstanding' in the 2015 Ofsted Inspection. Strode Theatre, a 343 seat venue for professional, amateur, community and educational activities, is a key facility in the campus. The Theatre is also a Regional Film Theatre in association with the British Film Institute.
A thriving programme of community Enriching your Talents courses is offered to adult students in partnership with Somerset Skills and Learning.
Staffing and structure
Strode College has a turnover of c.£12 million, employs 300 staff and is one of the largest employers in the area.
Each full-time student has a personal tutor responsible for academic support, progress monitoring and preparation for university or employment.
Curriculum areas are managed by a Subject Leader (A Levels) or Course Manager (vocational courses), responsible for the quality of teaching and learning and the student experience in the curriculum area. They are supported by a Curriculum Manager who is responsible for a group of subjects/courses and tutorial support for all students in their area.
The Curriculum Managers form Directorate Management Teams, led by an Assistant Principal. The college has three Assistant Principals, who are responsible for A Level Studies, Vocational Studies and Student Services respectively.
The college senior management team consists of the Principal, Deputy Principal, Executive Director of Finance and the three Assistant Principals.
The work of the college is also supported by managers who are responsible for Admissions and Marketing, Apprenticeships, Estates, Exams, Funding and Information, Health and Safety, IT Services, the Learning Resource Centre, Management Information Services, Student Support and the Theatre.
The college was recognised as an Investor in People in March 1996. Re-recognition was gained in March 1999, March 2000, June 2003, June 2006, June 2010 and June 2013. Staff at Strode are committed to the achievement of high standards. The quality of our information, advice and guidance has achieved national accreditation by meeting the Matrix standard (2016). They are well qualified and benefit from excellent opportunities for professional development. The college was awarded the Healthy Workplace gold award from Somerset County Council (2016).
Our physical resources include laboratories, workshops, salons, studios, rehearsal and practice rooms and other specialist accommodation in addition to general classrooms, learning centre, refectory, sports hall, dance studio, all weather pitch and multi-use games area, fitness suite, theatre and nursery.
A multi million pound capital investment programme has continued in recent years to improve student facilities; over £20m has been invested over the last 15 years. A new £1.9m 3-storey building opened in October 2014 providing specialist facilities for apprenticeships, business training and higher education.
Our Learning Centre offers students and staff a comfortable and well-resourced area on two floors which combines modern IT facilities and a library facility.
Conclusion
The emphasis at Strode College is to ensure all students achieve their potential with a particular focus on high standards of education within an inclusive and supportive environment. The college has developed a strong reputation for its service to the community and has excellent examination results. The college achieved its strategic goal of being Outstanding in the October 2014 inspection. The challenge now is to demonstrate outstanding quality every day for all students.
The college has developed a close partnership with employers, the County and District Councils. There has been a rapid expansion of workforce development activities including the delivery of training in company premises. The college is also expanding its work with unemployed people seeking re-training as a result of the recession.
The college has well qualified, experienced and highly committed staff and governors who create a friendly, welcoming and disciplined environment in which students of all ages can succeed. Strode College is committed to providing the kind of learning experiences which will prepare our students for the challenges of the 21st century.
Katy Quinn, Principal